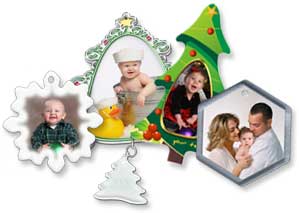 Add a little holiday delight to your packages!
Acrylic
Our laser-cut acrylic ornaments are only available at Filmet. We offer designs for many holidays that capture a treasured smile forever. All acrylic ornaments are available as ornaments or magnets, and the premium designs featue a clear acrylic charm etched with the year.
Ceramic & Fiberglass
New for 2009!
These 2-sided products are heat transferred to ceramic and fiberglass to give you a rich, color saturated and durable ornament.
Christmas & Winter Holiday Ornaments
Ceramic Ornaments (Sublimation)