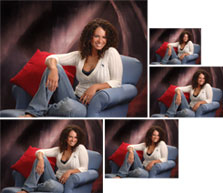 Service Level Options
to Meet Your Every Need
You can trust your images with Filmet. From the moment you send an order, our team goes to work. Your images are corrected to your specifications and printed on Kodak professional paper by the highest quality printers available. Please view the correction specifications below, or call one of our customer service representatives to help decide what level of service is right for you.
Standard print sizes available from 3x3 to 30x40. If a larger size than 30x40 is needed, please contact customer service for a quote.

| | Value | Select | Deluxe |
| --- | --- | --- | --- |
| Color & Density Corrections | no | yes | yes |
| Saturation & Contrast Corrections | no | no | yes |
| Filename Backprinting | yes | yes | yes |
| Wallet Die Cut* | Extra Charge | Included | Included |
| Options: Image Tone, Fancy Edges, Background Color | yes | yes | yes |
| Options: Paper Texture | yes | yes | yes |
| Options: Metallic Paper ** | no | yes | yes |
| Options: Coating & Mounting | yes | yes | yes |
Fancy Edges & Background Color
Fancy Edges are nearly the same as the Proofs with Edges in the Previews Catalog. They apply an edging to the image that allows a background color to show through. Both are selectable from the options menu below the viewing area of the product.
Paper Texture & Type
For vivid colors that pop off the page, choose our Metallic paper for a smooth glossy look with a metallic sheen.
Irish Linen and Pebble Textures can be pressed into our normal E-surface Kodak paper to create an artistic look and feel to your photographs while making them more difficult to scan.
Please contact customer service for samples of any of these options
* Wallets in groups of 8 are die-cut unless specified (except value). Wallets in groups of 2 or 4 will not be cut. Free wallet box for 48 or 96 wallet specials. Note: Please allow extra room on image to allow for die cutting.
** Coating & spray options are not available with metallic paper.