Easier Ordering - More Options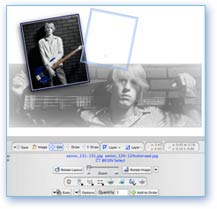 Filmet Connect is an online ordering software designed for photographers with features to suit every need.
For Sports & Events Photographers
Create and save packages to use and reuse to save you time
Use ROES Records to automatically fill text nodes
Embellish your images with an ever-growing variety of templates
For Wedding, Senior, and Portrait Photographers
Use the Pager Tool to create unique layouts for every occassion
Save templates for quicker placement later
Create attractive presentations with our growing selection of book and album products


Filmet and ImageQuix have partnered to provide a complete online proofing and ordering system.
With the ability to preview up to 4 images at once, custom price sheets, and even customer cropping tools if desired, IQ's Vando is the best photo selling interface available.
Unlimited Galleries, Unlimited Profit
IQ's Unlimited Plans let you upload as much as you want for a low monthly rate. Upload like crazy, sell like crazy. IQ also continues to provide a low-cost plan based on Upload Credits. Simply buy credits to upload photos when needed.
Fulfillment's Never Been Easier
Full Service auto-fulfillment through Filmet does all the work for you, leaving you time to focus on your photography. Or, choose Full Control and orders will come to you first for review.
Fast Payments!
ImageQuix has the fastest payouts in the industry, with direct deposits available as often as every week!
Customized to your website
Custom event welcome message
Custom price sheets
High resolution online photos
Compare up to 4 images at once
Color, B&W, and Sepia options
Customer cropping and zooming
Image security
Password protection
Drag & drop functionality
Email friends and family
Social network sharing
User favorites
Secure order processing
Album proofing
Slideshows


Photo Event Post is a simple and efficient way create an online presence to market your work. Use it to easily develop a website with password-protected image galleries for your customers to preview. Setup packages, build a Connect-linked shopping cart, and let your customers order online from you.
For more information, contact customer service.
Current users: login here


Easily rename and reorganize your photos before loading them into Connect.
IrfanView is a freeware program that allows you to use a batch process to rename your image files and much more. Commercial use requires a license fee of a mere $12.
Irfan View is not supported or endorsed by Filmet.

LumaPix is no longer supported by Filmet, but you're still welcome to send your flattened LumaPix layouts to us for printing.
For more information, please visit the LumaPix::FotoFusion website