A Contemporary Standard
Help your clients celebrate the treasured moments in their lives day after day: the bond of marriage, the birth of a new baby, or just the joy of their families. Canvas gallery wraps are a high-end piece of wall art that capture each milestone along their journey.
Gallery wraps are made with giclée-quality printed canvas that is coated with a UV and moisture resistant "print shield" and then stretched over a 1.5" frame. We finish the back of each gallery wrap with black paper, hanging hardware and rubber feet to keep it in place on the wall.
Available in sizes from 8x10 to 30x40.
Options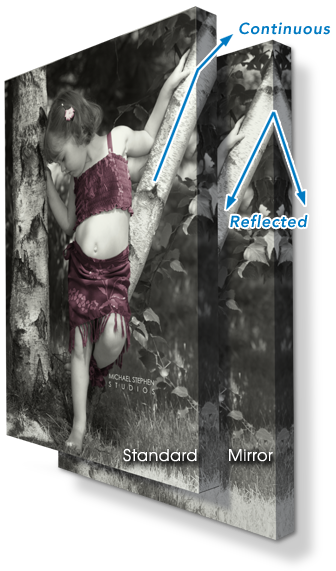 We offer two options for your gallery wraps.
Standard Gallery Wraps
Standard gallery wraps will wrap your image continuously over the edge of the frame to the back of the wrap.
Mirrored Gallery Wraps
The sides of a mirrored gallery wrap reflect from the edge of your image toward the center. You will see a shaded "Copy Zone" when ordering in ProFilmet ROES that shows you the area that will copy to the sides of your gallery wrap.
Use a mirrored gallery wrap if your image doesn't have enough background to wrap continuously around to the back without cropping important items.
Heads and bodies placed in the copy zone will appear on the sides and can look a little strange. If this is the case with your image, you may want to consider a background extension.
Dimensions
Each gallery wrap requires 1.75" of image for each side of the wrap.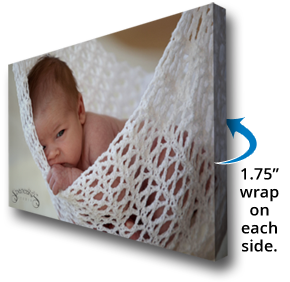 Gallery Wrap Dimensions
Face
File Dimensions
8x10
11.5 x 13.5
10x10
13.5 x 13.5
11x14
14.5 x 17.5
16x16
19.5 x 19.5
16x20
19.5 x 23.5
20x20
23.5 x 23.5
20x24
23.5 x 27.5
20x30
23.5 x 33.5
24x30
27.5 x 33.5
30x40
33.5 x 43.5
Files for Mirrored Gallery Wraps are the same as the Face size