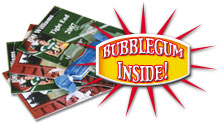 Make your clients feel like a star
Printed on the same stock, Digital Offset Traders look and feel like the real thing. These 2-sided, personalized traders come in sets of 8, packaged with bubble gum. DOT's are available in all Style 1, Style 4, and Sinewave templates to match the rest of your events order, or use the blank template to create your own look.
For a different approach, see our trader magnets.