Traditional Heirloom Quality
Destiny photo albums keep and display your photographs for generations to come with beautiful leather covers in black and ivory and with sturdy wooden spines. They are delivered, mounted and finished, with a protective case and box.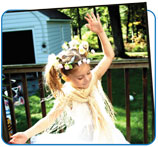 Destiny albums feature flush-mount adhesive pages with an 1/8" border.
Center Imprinting


Choose from these titles at no extra charge
Our Wedding
Our Love Story
Our Children's Wedding
Our Daughter's Wedding
Our Son's Wedding
Our Family
Wedding Memories
Our Baby
Our 25th Wedding Anniversary
My Children's Wedding
My Daughter's Wedding
My Son's Wedding
My Bat Mitzvah
My Bar Mitzvah
For Your Eyes Only
Memories
Our 50th Wedding Anniversary
Available in Gold, Silver, and Embossed
Customize Your Text
For an additional charge:
Custom Center Imprinting - 3 lines maximum
Lower Right Corner Imprintning - 3 lines maximum
Picture Windows

Place peel-and-stick picture windows anywhere on your album cover.
Available in:
Black, silver or ivory
2x2, 3x3 and 4x4 sizes